Members of Howland High School's Family, Career and Community Leaders of America (FCCLA) have been working to build relationships with students in younger grades through two different initiatives this school year.
The first opportunity, Adopt a Homeroom, actually got its start back in 2020 before being put on hold due to the pandemic. Each month, a group of 24 FCCLA students travel to the junior high school to meet with 8th grade students for about 15 minutes to discuss pre-selected topics. Members of FCCLA develop an agenda for their meetings, which explore things such as how to cope with stress and how to show gratitude.
" The members are enjoying this opportunity. We have had a great response from our members wishing to participate.The members are gaining public speaking skills and also are learning how to plan and organize. Students are taking ownership for building relationships and community between Howland Middle School and Howland High School," said FCCLA advisor Shannon Stevens.
"Our 8th grade students look forward to FCCLA students coming over to visit and provide some guidance and strategies with them through discussions. A lot of what FCCLA students talk about with our 8th graders resonates because to them Howland High School students are like rock stars coming over and just seeing them and hearing advice makes them excited and want to be just like them. FCCLA students have been tremendous role models for our students and we look forward to continued relationships with them and our students," said Howland Intermediate Principal James Kosek.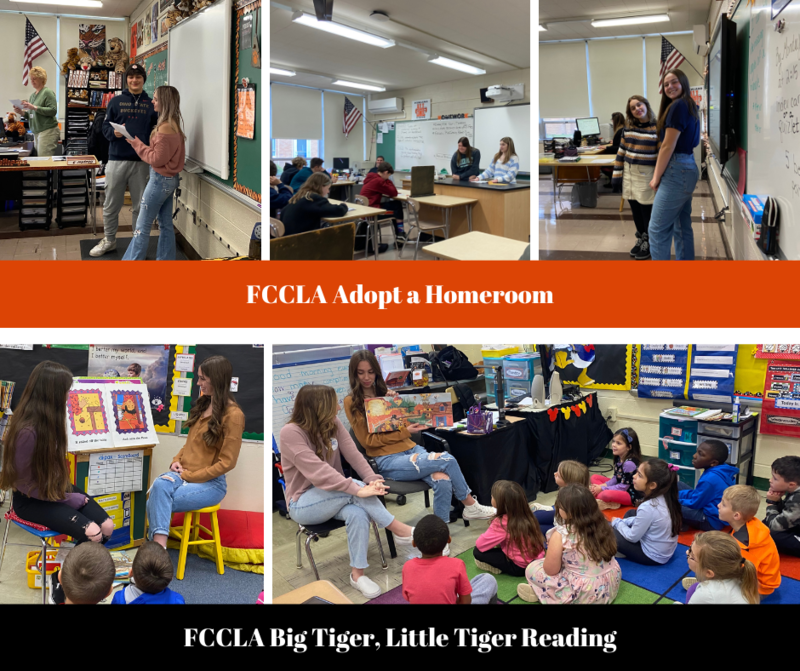 The second opportunity members of FCCLA have been taking advantage of this year is reading to first grade students at Glen Primary School. Each month, FCCLA sends two high school readers to each first grade classroom to read books selected by the classroom teachers.
"Being read to has numerous benefits like developing cognitive skills, language development, improving imagination, creativity and cultivating a love of reading, but being read to by a Big Tiger is an entirely amazing event," said teacher Megan Reuschling. "When a Big Tiger reads to a Little Tiger it fosters a connection among different age groups, creates a sense of community, develops bonds among the students who see them as role models and creates a feeling of joy and excitement."
Over 75 students make up FCCLA, which is led by Howland High School teacher Shannon Stevens. FCCLA is the student organization for Family and Consumer Sciences. Howland High School's Family and Consumer Sciences Department includes Shannon Stevens and Perri Graf.