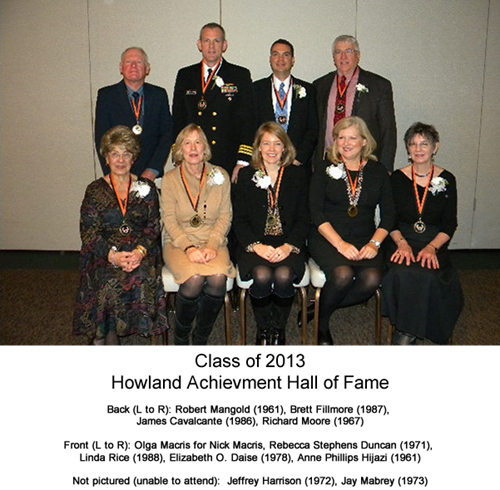 Nick G. Macris
After serving in the US Navy, Mr. Macris received degrees in engineering, education and administration. Starting as a teacher, he eventually rose to the position of superintendent, serving Howland in that role for 10 years.
Anne Phillips Hijazi - Class of 1961
After studying music at Julliard, Anne played with the New York Philharmonic under the direction of Leonard Bernstein. Anne has served on the numerous college faculties throughout New York.
Robert B. Mangold - Class of 1961
Bob completed thirty years of active duty serving in Vietnam, Germany and Korea. He retired as a Colonel ending his career as senior advisor to the Army Chief of Staff and Secretary of the Army in the Pentagon.
Richard H. Moore - Class of 1967
Richard studied at DePauw and in Japan. He received his Ph. D as well as an MS in Anthropology. Richard is well published and has created water quality trading programs. He is currently at Ohio State University.
Rebecca Stephens Duncan - Class of 1971
With degrees from Ohio University, Rebecca earned an M.A. in English and a Ph.D. She taught at Carlow College, and is currently a Professor at Meredith College. Rebecca has co-edited a book as well as many essays.
Jeffrey B. Harrison - Class of 1972
Jeff attended the Air Force Academy and travelled the globe throughout his career. Spending most of his career in Special Operations, he was at the Pentagon as the Director of Operations and Training.
Jay D. Mabrey - Class of 1973
Jay studied orthopedic surgery at Cornell and Duke. He served in the US Army Medical Corps, has several US Patents for total knee prosthesis systems and is the Chief of Orthopedics at Baylor University.
Elizabeth O. Daise - Class of 1978
With degrees from Westminster and Ohio State, Betsy earned her Juris Doctorate. She has directed major collective bargaining programs in Ohio & now works for the National Education Association in Washington, DC.
James C. Cavalcante - Class of 1986
With degrees from Cincinnati and Arizona State, Jamie joined the Intel Corporation in 1994. He led operational activities on the Pentium IV task force and is currently the Director of Operations of Intel Americas.
Brett E. Fillmore - Class of 1987
Fillmore earned his commission from the US Naval Academy, serving aboard three award-winning submarines. He provided oversight for two squadrons, 18 home-ported submarines, and over 3,000 sailors.
Linda J. Rice - Class of 1988
With degrees from Grove City, Westminster, and Kent, Linda has worked on numerous education projects. Her work has taken her to England, Nairobi, Ghana, Jordan, Lebanon, and Saudi Arabia. She has authored two books.