EDIT MAIN
2011 Inductees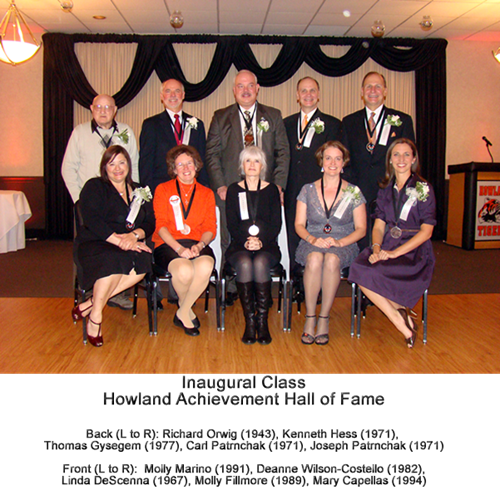 Richard Orwig – Class of 1953
Dick Orwig was on the Board of Education and served the community as a Township Trustee for 32 years. He co-founded the Howland Athletic Club in 1954. As a member of the Army, Mr. Orwig served his country in Iwo Jima, Saipan, and Okinawa.

Linda DeScenna – Class of 1967
Linda received her degree from Kent State University. As
a production designer, Linda was nominated for an Academy Award for the films Star Trek: The Motion Picture, Blade Runner, The Color Purple, Rain Man, and Toys.

Kenneth Hess – Class of 1971
Ken received degrees from Stanford and Harvard. He founded Banner Blue Software and wrote initial versions of Family Tree Maker and Org Plus. He is the author of the book Bootstrap, and founded Science Buddies which was awarded the Science Prize for Online Resources in Education.

Carl Patrnchak – Class of 1971
Carl received a degree in biology from Northwestern and eventually became Director of Rehabilitation at St. Anthony Medical Center in Rockford, Illinois where his breakthrough therapy achieved national recognition. Devoting his career to pain management, Carl holds a patent for a knee brace.

Joseph Patrnchak – Class of 1971
Joe received degrees from Northwestern, the American University in Washington, D.C., and INSEAD University in France. Previously the Senior Vice President for Blue Cross / Blue Shield of Massachusetts, he is now the Chief Human Resources Officer of the Cleveland Clinic Health System where he has earned national recognition.

Thomas Gysegem – Class of 1977
With degrees from Westminster College and the University of Akron, Tom served as the Assistant Prosecutor for Trumbull County. He has been an adjunct Professor at Kent State University and has served the community as an elected judge of the Warren Municipal Court since 1995.

Deanne Wilson-Costello – Class of 1982
Deanne received degrees from Grove City College, Youngstown State and Wright State University. She served her Pediatric Residency and Neonatology Fellowship at Rainbow Babies and Children's Hospital and is a Professor of Pediatrics for Case Western Reserve. Deanne was named one of the Best Doctors in America.

Molly Fillmore – Class of 1989
Molly earned degrees from the American University and the University of Maryland. As an opera soprano, she has performed at Carnegie Hall, the Lincoln Center, and the Kennedy Center. She is a Professor of Voice at Michigan State University and is a Soprano for the Metropolitan Opera.

Molly Marino – Class of 1991
With degrees from Miami University and the University of Chicago, Molly began as an executive for AT&T Wireless and Morningstar. As an advocate for the humane treatment of animals, she founded an animal rescue group and has been recognized as an expert, appearing on national TV, radio, and in print news.

Mary Capellas – Class of 1994
Mary studied dance at Ohio University and has performed in 42nd Street, Carousel, My Fair Lady and Footloose. She is currently a Radio City Rockette, and has appeared on The Today Show, Live With Regis and Kelly, and in the Macy's Thanksgiving Day Parade. She has also performed at the Shakespeare Theater in Washington D.C.