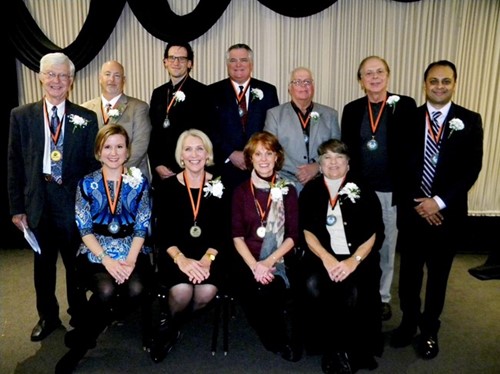 Lawrence M. Wright
A former high school boys' tennis coach, Mr. Wright was instrumental in creating the Howland Township Park, chairing and serving on the Board for 21 years. He was involved in raising funds and serving on numerous Howland Levy Committees and has received numerous local and state commendations for his efforts.
Richard L. Ries
Dick Ries began the National Forensic League's Speech and Debate program at Howland High School. For his efforts in developing a program that became one of the strongest in Ohio, he achieved a double diamond coaching award. Dick also served as the "Voice of the Howland Tiger Football Team" for thirteen years.
Robert M. Cashman – Class of 1940
Mr. Cashman received his industrial engineering degree from General Motors Institute in 1951. After serving as director of production control, purchasing, and quality control at Packard Electric, he became manufacturing manager and director of all Warren operations. Bob was also well-known for his service and generosity to numerous charities.
Sandra L. Hyde – Class of 1961
With a Masters degree in Counseling and Guidance, and a Ph. D. in Counselor Education, Sandra started at Minnesota State becoming a full professor in 1976. Travelling to Korea, India, and around the world, Sandra developed an international community exchange program through which she met Rosalyn and President Carter in Brazil.
Robert Spirko – Class of 1961
Robert is the best-selling author of The Palestine Conspiracy and Secret of Ekaterinburg: The Hour-Glass. He became an independent Middle East analyst after a successful stint as a stockbroker at Merrill Lynch and Prescott, Ball & Turben. Mr. Spirko received an advertising award from Harvard MBA magazine while at Alcan Aluminum Corporation in Cleveland.
Susan Uitto King – Class of 1967
After teaching for seven years in Bristol, Sue started at Howland High School teaching Spanish, French, and Italian. She was the advisor for numerous activities and coached Varsity Track & Field and Varsity Girls Soccer. Sue is involved in 'all-things Howland' and continues to volunteer tirelessly to promote our school.
Thomas Ahern – Class of 1976
After graduating from Northwestern, Tom managed financial controls in the aerospace division of Control Data Corporation. In California, he created training centers to serve disadvantaged youths. Now, as the CEO of Capstone, Tom serves over six million students through an online literacy program. In 2014, he was named the Ernst & Young Entrepreneur of the Year for the Upper Midwest.
Timothy D. Best – Class of 1977
With degrees in Metallurgical Engineering and Industrial Engineering Management, Tim began his work with military aircraft. In 1985 he transferred to the NASA Glenn Research Center in Cleveland. While at NASA, Tim has worked in Safety and Mission Assurance, protecting the crew on the predecessor to the current International Space Station. In 2012, Tim received the NASA Exceptional Service Medal.
Mark Butts – Class of 1989
As the founder of two production companies, Mark works extensively in the music industry. He has worked with The Eagles, Kenny Chesney, Justin Beiber, Florida Georgia Line, and Shania Twain. In television, he has developed Super Bowl Halftime Shows, NBA All-Star Games, the CMA Music Festival, and has worked with Michelle Obama for two events at the White House.
Deepak Sudheendra – Class of 1992
After receiving his medical degree from New York Medical College, Deepak completed a research fellowship at the National Institute of Health in Bethesda, Maryland. He is currently an Assistant Professor of Interventional Radiology & Surgery at the University of Pennsylvania and receives referrals for his expertise in minimally invasive treatments for cancer, deep vein thrombosis, varicose veins, and peripheral vascular disease.
Amanda Beagle – Class of 1998
Amanda studied Italian and Opera with the Opera theater of Lucca, Italy. As Miss Ohio 2004, she won a talent award while competing for the title of Miss America 2005. Ms. Beagle made her debut at Lincoln Center in a production of Babes in Toyland. Amanda is currently pursuing a career in theater while working as a public speaker, voice teacher and pageant coach.