The Howland Local Schools Parent Teacher Organization (PTO) recently unveiled two book vending machines, which were purchased to encourage reading through recognition of academic performance and personal achievements. The machines are located through the front vestibules at Howland Glen Primary and H.C. Mines Elementary Schools.
"This is a really exciting day for the Howland PTO," says PTO Executive Board President Angela Stefurak. "This was a large purchase, costing over $11,000, and is a great visual example of how important our fundraisers are."
"We are so excited to have such a unique way to reward and incentivize our students. It is just another way our wonderful PTO organization helps make H.C. Mines a better place," said H.C. Mines Elementary Principal Jennifer Stephenson.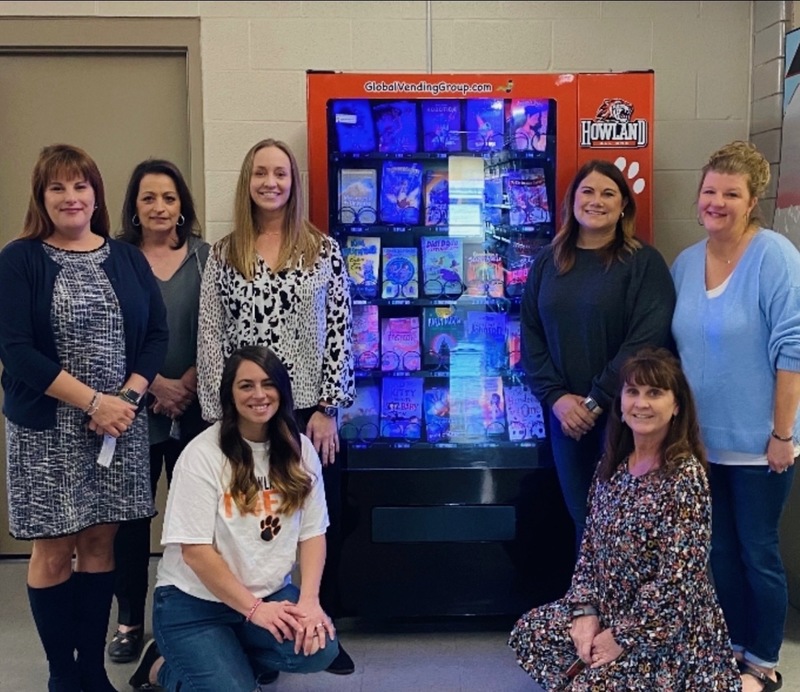 (Left to right: Jennifer Stephenson, H.C. Mines principal, Angela Cerenelli, H. C. Mines librarian, Brook Thigpen, Kaila Mohney, Lauren DeSavigney, Susan Hardin, H.C. Mines Title 1 teacher, Jaime Wagner)

Teachers and support staff have devised their own reward system, based on what works best for their students.
"One classroom might use a reading log, while another classroom is working towards good behavior or character," explained Howland Glen Principal Travis Roth. "Either way, students will work hard to earn that reward and that kind of work ethic is contagious. Our PTO does amazing things every year for our students and staff. I can't thank them enough for all that they do."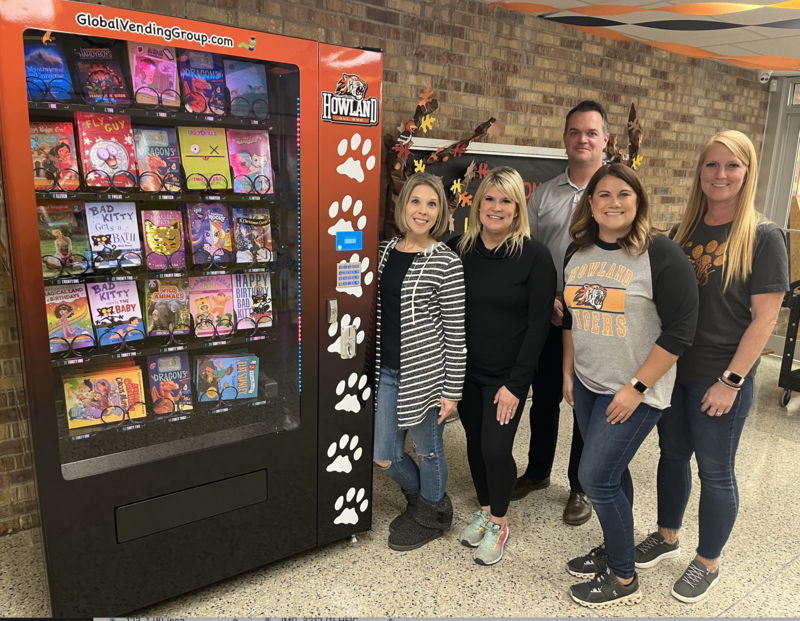 (Left to right: Kristen Taylor, Holly Naples, Travis Roth, Howland Glen principal, Lauren DeSavigney, Angela Stefurak)
The machines were purchased with funds collected during the PTO's annual fall fundraiser and Parents Night Out event held in April. The monies raised through fundraising are distributed between the three elementary schools for various items requested by administrators. Previous purchases include CleverTouch screens, a new piano, and headphones for state testing. The Howland Local Schools PTO also uses funds for various student activities, parties and teacher appreciation events held throughout the year.